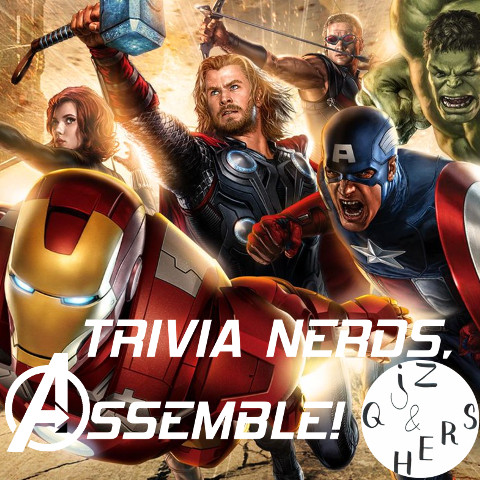 Avengers: Endgame is currently obliterating box office records, so Hallie has assembled six super-powered questions about Earth's Mightiest Heroes! We also marvel at facts about psychoanalysis, secret societies, and Turkish cuisine. So grab your hammer, your shield, and your shawarma, and hulk out with us, because we are Groot.
3:58: Q1 (Arts & Literature): What is the full name of the comic book artist who co-created Iron Man, Thor, and Ant-Man, three of the original Avengers, with his arguably more famous older brother?
10:33: Q2 (Sports & Games): What is the only team in the Big Four North American sports leagues which shares its name with one of the Avengers?
19:00: Q3 (Science): What Marvel character, who is part of the Savage Avengers, a comic coming out this month, shares a name with a psychological complex proposed by Carl Jung as a girl's psychosexual competition with her mother?
29:14: Q4 (Sounds & Screen): What 1944 film by Republic Pictures, the first film about any Avenger, is named after an Avenger who, after being recruited in the 1960s, was given retroactive "founding member" status in place of the Hulk, and has since starred in eponymous films in 1990, 2011, 2014, and 2016?
39:49: Q5 (Times & Places): Namor, one of the 1980s Avengers recruits, was a former member of what fictional group of superhumans that is also the name of several real groups that were part of an Enlightenment-era society founded on May 1, 1776 to oppose religious influence over public life and abuses of state power?
49:24: Q6 (Everything Else): As anyone who has seen the movie The Avengers knows, the gang goes to eat shawarma at the end after Tony Stark decides that that is what they should do after fighting the Chitauri.  Shawarma is based on what type of kebab of Ottoman Turkey which is cooked on a vertical rotisserie and which translates as "to turn"?
Theme music: "Thinking it Over" by Lee Rosevere, licensed under CC BY 2.0
Original Image Credit: The Walt Disney Company/Marvel Entertainment