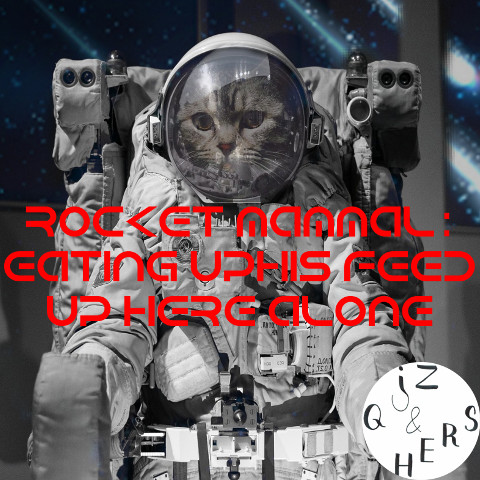 To kick off Season 4, Justin has come up with the most bizarrely specific theme in Q&H history: animals in space. Why? Why not. We also talk about the space race, impossibly indestructible critters, and a showdown between an artist and US customs. Yeah, this is a weird one.
3:06: Q1 (Everyting Else): One of the most popular memes in Internet history is "Nyan Cat", which combines a Japanese pop song and an 8-bit animation of a cat flying through space leaving a rainbow in its wake.  Even more bizarre, the cat's torso consists of what breakfast food?
10:13: Q2 (Science): The phylum of animals sometimes called "water bears" are among the most resilient animals on Earth, and have been found to be able to survive extreme temperatures, radiation, and, yes, even the vacuum of outer space.  What is the scientific name for this phylum?
15:50: Q3 (Sports & Games): A group of anthropomorphic rabbits called the Broodals, who live on the Moon, feature as antagonists in the latest installment of what long-running video game franchise?
25:36: Q4 (Times & Places): In 1957, Laika became the first animal to orbit Earth.  What kind of animal was Laika?
32:45: Q5 (Arts & Literature): What sculpture by Constantin Brâncuși, which very much fits the theme of this game, was controversially declared to be an industrial product, and taxed accordingly, when it was brought to the United States in 1926?
39:09: Q6 (Sounds & Screen): What variety show, which originally aired from 1976-1981, featured a house band called Dr. Teeth and the Electric Mayhem, and, more relevant to today's theme, a recurring sketch called "Pigs in Space"?
Theme music: "Thinking it Over" by Lee Rosevere, licensed under CC BY 2.0
E-Mail: quizandhers@gmail.com
Facebook: https://www.facebook.com/quizandhers/
Twitter: https://twitter.com/quizandhers
Instagram: https://www.instagram.com/quizandhers/